The Duo
(download Apple Orange Pair's biography)
(download photos)
Apple Orange Pair (Emily Boyer, horn, and Colleen Potter Thorburn, harp) is a duo committed to engaging audiences through a growing repertoire for this unexpected pairing. Since its founding in Connecticut in 2010, the duo has premiered nineteen new works by emerging composers. Five of these new works are featured on their debut album, "Seeds," released in 2013. Apple Orange Pair regularly serves as an ensemble-in-residence at new music festivals and universities, where they present workshops on contemporary composition for their instruments and bring to life new works by student and faculty composers. They have performed as ensemble-in-residence at Connecticut Summerfest at Hartt School of Music in Hartford for its first two seasons, in addition to serving as ensemble-in-residence for Central Connecticut State University's music department for the 2016-2017 academic year. Apple Orange Pair has been honored as the recipient of commissioning grants from the American Harp Society and the Yale School of Music's alumniVentures program. They have also participated in several chamber music residencies at Avaloch Farm Music Institute in New Hampshire.
Apple Orange Pair maintains a robust performance base along the U.S. East Coast and has presented concerts in New York, New Haven, Baltimore, Philadelphia, Fort Lauderdale, and Richmond, among other cities. Recent performance activities include a 2016 concert tour of the Mid-Atlantic region with performances at An die Musik in Baltimore, Virginia Commonwealth University in Richmond, and the University of Mary Washington in Fredericksburg, Virginia. Apple Orange Pair has also presented concerts in Virginia at Bluefield College in Bluefield, on the Spencer-Miller Memorial concert series in Abingdon, and at the University of Virginia in Charlottesville; and in North Carolina at Chowan University in Murfreesboro. In Connecticut, Apple Orange Pair has collaborated with local businesses and artists for innovative concert programs throughout the state to benefit regional charities, such as the Connecticut Food Bank. Conference performances include a regional artist recital at the 2015 Northeast Horn Workshop at Pennsylvania State University, a featured concert and master class at Mid-Atlantic Harp Day in Philadelphia, and recitals at the American Harp Society's 11th National Summer Institute at Utah State University and the International Horn Society's 2016 Symposium at Ithaca College.
High-resolution photos
(jpegs; click to enlarge and download)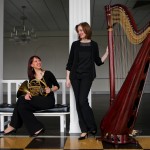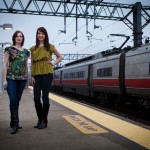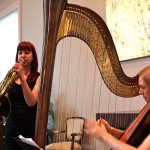 Emily Boyer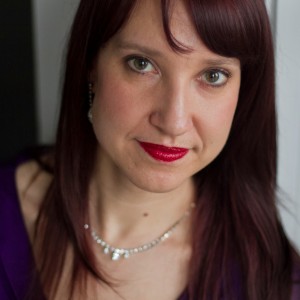 Horn player Emily Boyer enjoys a diverse orchestral and chamber performance schedule throughout Connecticut. In addition to Apple Orange Pair, Emily helped found the New England New Music Ensemble, a sextet highlighting new compositions and arrangements of movie, pop, and rock classics. As an educator, Emily is an instructor at Naugatuck Valley Community College (Waterbury, CT) and Educational Center for the Arts (New Haven, CT), maintains private brass studios at The Foote School and Hopkins School (New Haven), and is an Arts Provider with Hartford Performs. Emily currently serves as Co-Director of Music at Christ Presbyterian Church (PCA) in New Haven. She has previously served as an Arts Provider with Hartford Performs, bringing music-based programs into Hartford Public Schools, and has been a guest clinician for band programs throughout the state. Emily has performed with orchestras and chamber groups at music festivals including the Aspen Music Festival in Colorado, the Atlantic Music Festival in Maine, the Banff Music Festival in Canada, and the Institut Musical de Provence-Aubagne Music Festival in Aix-en-Provence, France.
Emily is a graduate of the Interlochen Arts Academy and holds a Bachelor of Music degree from Peabody Conservatory and a Master of Music degree from Yale School of Music. Her primary horn teachers include Julie Schleif, Peter Landgren, William Purvis, and Denise Tryon.
Emily enjoys playing in Apple Orange Pair because it allows her to reveal timbres and techniques rarely heard in orchestral horn playing. Emily also relishes the close audience interaction that performing with Apple Orange Pair affords and takes pride in designing beautiful fliers and visual presentations for the duo.

Colleen Potter Thorburn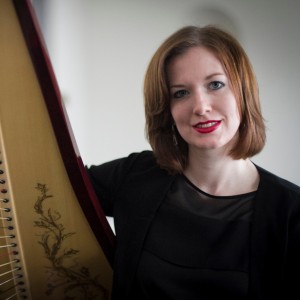 (download Colleen's biography)
Harpist Colleen Potter Thorburn's playing, acclaimed as "full of spirit and sensitivity" (Greenwich Citizen), "engrossing," and "winning" (The New London Day), has earned her national recognition as a winner of the American Harp Society's Anne Adams competition. She currently performs as Principal Harp with the Eastern Connecticut Symphony Orchestra in New London, Connecticut, with whom she recently performed Ginastera's harp concerto as a soloist; has performed as a harp substitute with the Philadelphia Orchestra; and continues to perform regularly with the Roanoke Symphony Orchestra and the Richmond Symphony. Festival credits include the Aspen Music Festival, the International Festival-Institute in Round Top, Texas, and the Atlantic Music Festival in Waterville, Maine. Colleen teaches harp as a faculty member at Virginia Commonwealth University in Richmond and Liberty University in Lynchburg, Virginia, and in the summers, she teaches at Coda Mountain Academy in West Virginia as founding harp faculty. She is an active proponent of regional harp activities in southern Appalachia, serving as president of the Southwest Virginia chapter of the American Harp Society from 2014-2016, and giving concerts throughout the state as a Touring Artist with the Virginia Commission for the Arts for three years.
Colleen is the first harpist to have earned a Doctor of Musical Arts degree from the Yale School of Music. She also holds Master of Musical Arts and Master of Music degrees from Yale, where she studied with June Han, and a Bachelor of Music degree from the University of Illinois in Champaign where she studied with Ann Yeung.
Colleen enjoys performing in Apple Orange Pair, through which she and Emily Boyer have explored creative ways to present diverse musical styles of horn and harp music to new audiences. As a result of the duo's commissioning and recording projects, Colleen has relished new musical opportunities to collaborate closely with composers and gain practical experience managing the business side of pursuing entrepreneurial chamber music projects.